Ramblings of a Hypnotherapist's Client – The Chimp Paradox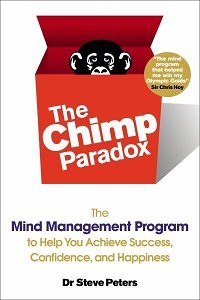 Since presenting the idea of the primitive mind and the modern human mind (thanks to Dr Steve Peters and his book The Chimp Paradox) and the relationship between the two I have found something really quite complex suddenly very easy to convey… its humorous and it makes sense… and it works! See how Betty's take on this has helped her…!
Hi Russell, thanks for Saturday's session that was just what I needed I feel 'RE-BOOTED' that session has throw me right back into positivity, not that I had lost it.
Well Mr Hoyles Since loosing the 3 stone ( got that in nicely ) I have discovered a few things,
1) Bones in my bum, never had them before, sitting on hard seats hurts.
2) A lap, never had one of those before either.
3) Plus something to blame for a life of over indulgence,  'Helloooo CHIMP' boy has he got a lot to answer for.
Today no one would give way at the Gym so in came the normal road rage, then this loud voice said ' no you don't Chimp ' they must have somewhere to go in a hurry.
Sooooo I reckon all of the OLDIES who seem to be talking to themselves
HAVE READ THE BOOK AND ARE ONLY TALKING TO THEIR CHIMPS.
I feel sorry for you I am only on page 82 HaHa.
Cheers Russell you are brill.
Bet
The Chimp Paradox by Dr Steve Peters can be bought on Amazon here : http://www.amazon.co.uk/Chimp-Paradox-Management-Programme-Confidence/dp/009193558X/ref=sr_1_1?s=books&ie=UTF8&qid=1373445402&sr=1-1
Follow Russell Hoyles on Google+!
Ramblings of a Hypnotherapist's Client – The Chimp Paradox