Why choose Russell Hoyles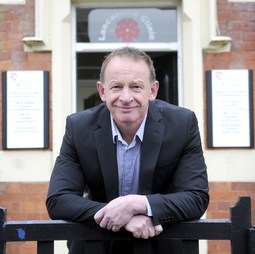 You have just made a first step to achieving your aims! By deciding to visit my web-site you have entered a new positive phase in your life. This is the moment you stop 'trying' to change. This is the moment you stop 'using willpower'. This is the moment you start to throw away to history negative behaviours and thought patterns that drag you down.
The moment you contact me is the moment you make that decision. You Decide To Change! This is the time in your life where you start to engage in mind management. Where you realise that you yourself hold the key to change and that you can conceive of a better future, you can believe in that future, and you can indeed achieve it! Sounds too good to be true!?! Yes of course it does… but hold on for a moment… because it actually is true… and I will show you how. My work is motivational, innovative, and successful. Visit my testimonials page. Listen to my clients, read their stories, and see the truth that they just like me and you, are ordinary regular people who just happened to make the decision to contact me before you have. That's the only difference and everything you read hear and see on this website, is entirely possible for you! My clients learnt to conceive of a better future. They had hoped, tried, wondered, desperately at times… "Can I lose weight?" "Feel motivated to exercise?" "Let go of stress?" "Can I deal more positively with my cancer?" "Manage my IBS better?" "Overcome my phobia?" "Stop bad habits?"… They succeeded and so will you!
By using a combination of Clinical Hypnotherapy (including my own adaption of the Hypno-Band Programme for weight loss), Cognitive Behaviour Therapy, Person Centred Counselling, and by applying the latest thinking and reading around mind management and motivation, I will help you achieve your aims. I will apply my own self belief in my unique approach, and in your capacity to change!
So read and listen to the stories on the Media Articles page… My Clients Stories… see the Nigela Lawson story… its all success… its all possible… I look forward to hearing from you!
My Latest Client Testimonial:
Mar 7, 2018
I saw Russell at Fairfield Hospital which is a lovely setting and hospital staff are always welcoming and discreet.I saw Russell as I was at the end of my tether with a bad sugar addiction and felt awful all the time.Russell's programme is amazing , he helped me to see things in a totally different light , not to keep blaming myself and he put me on the right track regarding healthy eating and a much more balanced lifestyle.I loved the combination of reading, practical exercises and hypnosis.I am now feeling so much better and although I have the odd blip now and again I can honestly say my relationship with sugar is much healthier than it was and Russell is always there for support.If you are struggling like I was I would recommend you make an appointment to see Russell , you won't regret it !
More reviews can be viewed on my testimonial pages…
Call me for an informal chat or email me…
Russell Hoyles
07921 212728
[email protected]
Media Articles
My work has been featured in a number of media articles and on radio shows. Clients stories of weight loss, hypnotherapy and infertility treatment, alleviating anxiety and depression, lifestyle change, and the relevance of hypnotherapy and mind management in the treatment of physical presentations of stress…IBS, psoriasis, eczema have been featured. Below are just some of the printed stories and the audio's including a very interesting one with myself on Radio City's Dr Mike show. Please do take time to read and listen to these.
Prestigious Clinic Locations
Featured Testimonials
All of my reviews can be seen on the testimonial pages however a selection are found below...
Corrina
weight loss therapy
"It's hard to adequately describe how Russell has helped me. I feel so different now. Before I felt as if I was in a fog, with no way out. Now I feel that I have a clear direction and there is light at the end of the tunnel."
Beth
Help with Anxiety
"Russell has helped me physically and mentally through my anxiety and has really changed my life. I am going out with friends and my boyfriend and not having any anxiety attacks."
Stephen
Life Coaching
"When I came to Russell I was suffering from anxiety on a daily basis, the sessions with Russell really helped me to relax and learn to control my anxiety to a level I can live with,my life is so much better now."